Hallberg Rassy 57
Asking Price
EUR €1,300,000
Unique opportunity, the only recent Hallberg-Rassy 57 on the market, available at a very reduced price for a very quick sale. Featuring a huge number of extras and new upgrades including: Brand new sails never used (main + Genoa), code 0 and a Parasailor. The Hallberg-Rassy 57 was nominated for the prestigious 2019 European Yacht of the Year awards. 
Hanna is a luxurious world cruiser that delivers all the hallmarks of the renowned Hallberg-Rassy design: spacious living, impressive performance and impeccable design. She was bought for more than 2.3M Euros in 2019 by her current owner. 
The yacht's current owners have sailed Hanna from Sweden, to Mediterranean, Caribbean, Pacific to Tahiti. During their travels, they have enjoyed unrivalled comfort and ease of sailing thanks to Hanna's hydraulic systems. Bow and stern thruster with remote control (including engine control) afford peace of mind when berthing and easy manoeuvring. Twin wheel steering, Cardan linked rod steering with progressive purchase combines safety and fine feel in the best possible way. 
The yacht has huge deck locker space to stow endless equipment for long passages behind the Hydraulic Platform that provides a safe space to enter the water and sundeck. Her deck is clean and uncluttered with all hatches flush mounted for optimal safety when moving about. Hanna has a spacious cockpit that is 2.9m wide, and is well protected from the elements with the helmsman position slightly elevated to deliver excellent views and additional headroom in the aft cabin below. Very large Walk-in engine room with a  powerful 180hp and 17,5Kw of genset. 
Don't miss this amazing opportunity! Contact Éric at 36 Degrees Brokers today!
*Price plus taxes if applicable.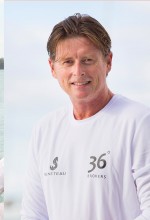 For Full Inventory Contact:
Eric Pinel-Peschardiere